Bridging the Gap Between Business and Academia: A Q&A with Christian Chautard
May 25, 2017 • By Christian Chautard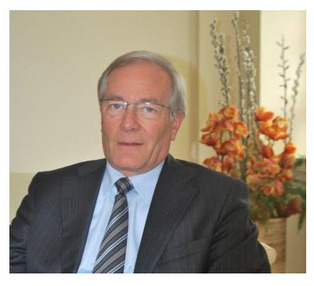 What is your professional background?
I have a background in engineering with an additional MBA. I had been working in the metallurgical industry as an engineer, and I switched to consulting management—organization and leadership—for big corporations in France and Germany, and partly in the US. I have been partner with the American consulting company Oliver Wyman, covering the so-called EMEA: Europe, the Middle East, and Africa. I retired from Oliver Wyman in 2009. But since that time, I'm still working, as a consultant—mainly in Germany, where I am living now. I am a French and German citizen; I have the two passports. I am the non-executive chairman of the Korian Company, based in Paris. This company operates more than 700 elderly nursing homes in Europe: France, Germany, Italy, and Belgium. It employs more than 45,000 people, and takes care of 70,000 residents. I am the non-executive chairman, meaning that I am not in charge of the operation of this company, I am the chairman of the board of directors.
What do you see as the potential public relevance of The Enhancing Life Project, particularly in the industries that you've been involved with?
The type of services Korian is delivering is, in fact, a non-perfect answer to a critical societal issue within these countries. In developed countries, people are more and more subcontracting to a third party the care of their disabled and dying parents. And why are they doing so? They are all working, they are living in cities in small homes, they don't want to disturb part of their life for their old parents. So there's a lot of reasons, but ultimately, they are no longer taking care personally of their old parents, and this is raising a very critical societal issue. I am hoping there is a huge potential for The Enhancing Life Project in this field: and certainly not only for making working processes more efficient, figuring out processes of care, developing new digital tools—okay, that certainly helps—but we need new spiritual, religious sociology. And therefore, Enhancing Life is very relevant—or, would be relevant, if we could bridge the gap between the very theoretical scientific academic research and the need in day-to-day life.
What are some ways that you can envision academia communicating more effectively with business, and with the public at large?
My perception in terms of the seminar in Berlin, because it was the first time I was in contact with the scholars, was that I was impressed by the group of very talented people; it was a collection of individual research projects linked by this overall objective. I'm completely convinced that, at the individual level, they are very keen, very motivated, to fill the gap between pure academic research and policymaking—because it is only at the stage of policymaking that the connection and the interaction with the business world will take place. The business world, except for some specific managers, will not naturally be in contact at the level of academic research, and so you need to have different deployment of the academic research in order to interact with the business world—even in my business sector, where it is more or less obvious that we need something from people like the scholars of Enhancing Life. But even if it is obvious, you have to find the link between the research output and the real day-to-day life in a company like my company. I assume that at the conference in Chicago, a year after the seminar in Berlin, a lot of movement will be made in that direction.
What do you think that The Enhancing Life Project, or Enhancing Life Studies, can offer to that goal of "bridging the gap" between policymaking and academic research?
If you leave the scholars in their normal, natural environment—meaning, the research laboratory of the university, or working to write a book, or working to write articles—they are not really triggered to go in the direction of the business world, or day-to-day life, because it is not their natural perspective, it is not their natural environment, and it is maybe also not the dimension on which they will be rewarded in academic life. In the academic life, I assume they will be rewarded if they are spending time planning lectures and writing articles that are very appreciated among the academic world. They are not really pushed to go naturally in the direction of policymaking, and I think that The Enhancing Life Project is a collective opportunity for the scholars to go in that direction, pushed by the project management of Enhancing Life, and pushed also by the motivations from the different scholars. They might discover that they are all producing research, and this research could do much more ample work in terms of concrete education if they could work together, maybe two to three, or even five or six, of them, working on complementary dimensions of the same issue. And I think that The Enhancing Life Project might bring all that. It might! I have discussions—very blunt discussions, by the way— with the leadership team of The Enhancing Life Project and I am sure they are very willing to do so, to push the 35 scholars to go in that direction. But it is not easy for the scholars to do, because, once again, they are living in the world which is not requiring that from them. What The Enhancing Life Project is requesting from them is something they don't have the experience with, and maybe they will not get any professional reward for it. It will be personally very rewarding—professionally, I don't know.